At the Copenhagen Fashion Summit 2019, industry leaders came together to discuss the state of the industry's sustainability efforts. How do retailers reconcile sustainability withthe demand for newness and its logistical implications?
PARIS, France – "Progress in sustainability in the fashion industry has slowed down by a third in the last year," according to the Global Fashion Agenda (GFA), even though a new survey shows that consumers are increasingly concerned by social and environmental causes. The production of clothing has doubled in the last fifteen years, yet the consumer holds onto each piece of clothing half as long.
The current production supply chain, distribution and consumer system is straining resources from raw materials to humans, polluting the environment and creating consumer overload. "We are the last generation that can prevent irreparable damage to our planet," said U.N. General Assembly President María Fernanda Espinosa Garcés, stressing that 10 to 12 years are all that remain to avert catastrophe.
At the recent Copenhagen Fashion Summit, the key topic was how the clothing industry, globally valued at USD 1.3 trillion and employing more than 300 million people, must take the lead and mobilise to reconcile the impact of environmental, social and economic sustainability.
We sat down with Lambert + Associates COO Helene Lanza to discuss her takeaway from her two days at the summit and "what the implications are for retailers, how they integrate sustainability into their system in the next five years while facing evermore logistical concerns." Here are some of our observations.
The impact of transportation and logistics
As brands and retailers refresh their offer to customers more regularly, the number of collections has multiplied, increasing the amount of travel for retail merchants and the frequency of deliveries. McKinsey & Company reports that the "industry accounted for 1.7 billion tons of carbon dioxide emissions in 2015". Add e-commerce's impact as well, the increased logistical burden can only further impact the carbon footprint.
One of the ways retailers can reduce the logistical carbon impact is by buying locally produced products and provisioning locally. This is being tested by Galeries Lafayette as part of their Go for Good model. Over 500 brands are in the program and follow a specified charter of ecological and social responsibility.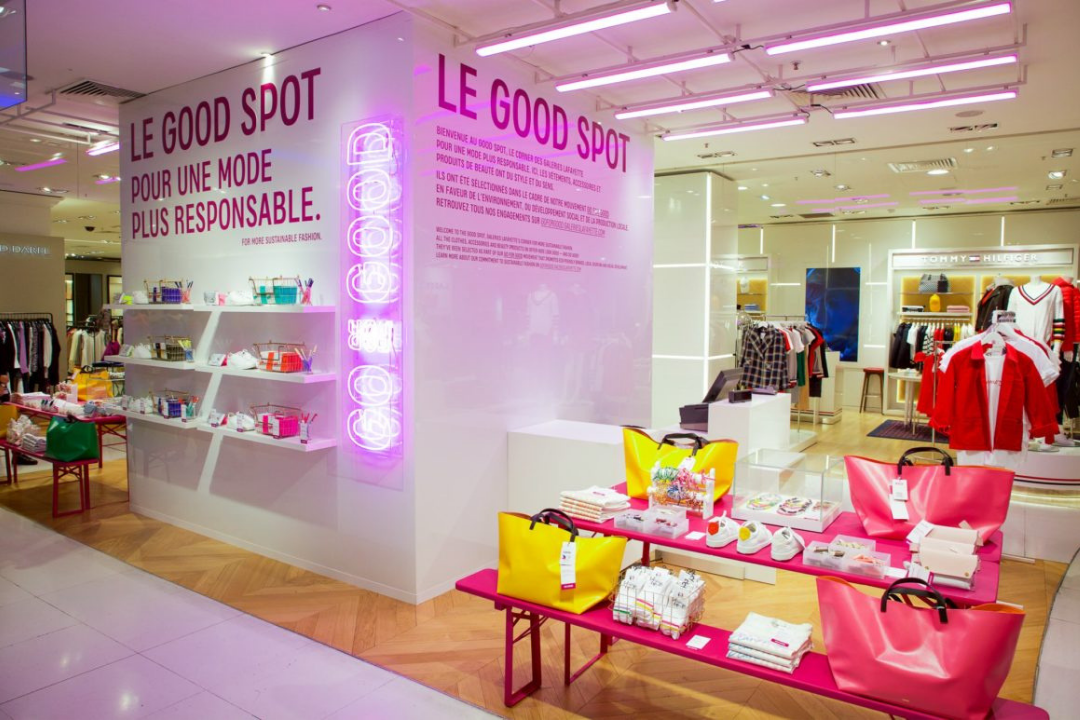 Another transport option is to click and collect. Considered by consumers as a convenient omnichannel service, it has the added value of being a CO2 reducing practice, as it consolidates and centralises deliveries to a local store. This delivery option is offered by many a retailer, from luxury – Le Bon Marche and Neiman Marcus – to John Lewis, the mid-tier UK retailer, who also offers pick-up points in store and in their owned network of Waitrose stores.
Finally, retailers are starting to fulfil their e-commerce orders directly from regional store stock. In a 2017 brief from Bain & Co consulting, "analysis suggests that for large retailers, the ship-from-store option could be 30% more cost efficient than shipping from a distribution centre directly—and for small retailers, up to 50% more cost efficient."
Is 'sustainable growth' possible?
Logistics is just part of the sustainability equation, and these are just some of the positive steps that retailers are taking towards ecological responsibility. However, it is just the beginning. As Dr. Martin Frick, a climate change policy director at the United Nations said at the summit, "Fashion runs on the biggest source of renewable energy there is: human creativity."
Considering new paradigms, with consumers evermore concerned about sustainability, it is smart retail to not wait for the customer to demand it. As addressing sustainability is a trend that is challenging the current business models, maybe we can look forward to the day when the concept of "sustainable growth" will no longer be an oxymoron.
---
How are you addressing the issue of sustainability within your organisation? If you are looking to diversify your retail assortment with more locally based brands, find out about our sourcing services here.