There's been a clarion call for brands and retailers to become more transparent. How can blockchain technology answer this demand?
PARIS, France – Transparency is the word of the moment. Customers are demanding more information from brands on all fronts. We want to know about the working conditions of the people who make our clothes, the environmental impact of textile production, and even the breakdown of prices. Many direct-to-consumer brands are taking radical steps to bake transparency into their business model from the get-go. Just take a look at sustainable cashmere company Nadaam or oft-cited clothing brand Everlane who list the 'true cost' and mark-up for each product.
Of course, brands who operate on a wholesale model may not desire this level of transparency. On top of that, many brands simply do not have a full picture of their supply chain. Since the Rana Plaza factory collapse in Bangladesh however, we've seen the rise towards greater transparency as customers demand for accountability from both brands and retailers.
This social movement is definitely on an upward trend. For example, Fashion Revolution's 2018 Fashion Transparency Index features 172 brands across 68 companies or parent groups who disclosed information about their manufacturers. In 2018, 38 per cent of the group disclosed the details of their first-tier suppliers compared to only 12.5 per cent of brands in 2016.
Blockchain technology in fashion and luxury
Although there is a seachange happening, two clear issues remain. How can brands or retailers ensure that each stakeholder in the supply chain adheres to safe work conditions and environmental standards? In turn, how can consumers trust this self-reported information? Realising this dilemma, brands and retailers are turning to blockchain technology as a solution.
Blockchain technology can be thought of as digital database that can be shared through a private or or shared peer-to-peer database. It is the definition of a democratic system, since information is open for anyone and everyone to see. It fosters trust between all participating parties in the data chain as it eliminates the need for a third-party to validate the information. This is because data contained in any block cannot be modified without altering all subsequent blocks; it also requires an agreement of the network majority.
In the last few years, we've noticed a slew of blockchain companies aimed at creating greater transparency within the fashion and luxury arena.
Provenance
Founded in 2013, Provenance is a digital platform for businesses and shoppers aimed at creating transparency and accountability. There are several ways that Provenance works with businesses. Brands can track and trace their entire supply chain; providing shoppers with a complete digital history of a product. Provenance also allows brands to create a digital version of the product via a secure tag (NFC tag or DNA fingerprint), which transfers to the new owner at the moment of a sale, thus maintaining the chain of possession.
In 2017, Danish fashion designer Martin Jarlgaard collaborated with Provenance to track the production process via the mobile app. Jarlgaard registered the raw material – sustainable alpaca from a farm in Dulverston – on the blockchain via the Provenance app. From shearing the fleece through to spinning, knitting and finishing the product in Jarlgaard's London studio – each step was tracked with a unique ID. This was the first garment to have a digital passport containing location mapping, brand content and timestamps from every stage of production. Although this was a successful project, the application was very time-consuming and has not yet proven to be scalable.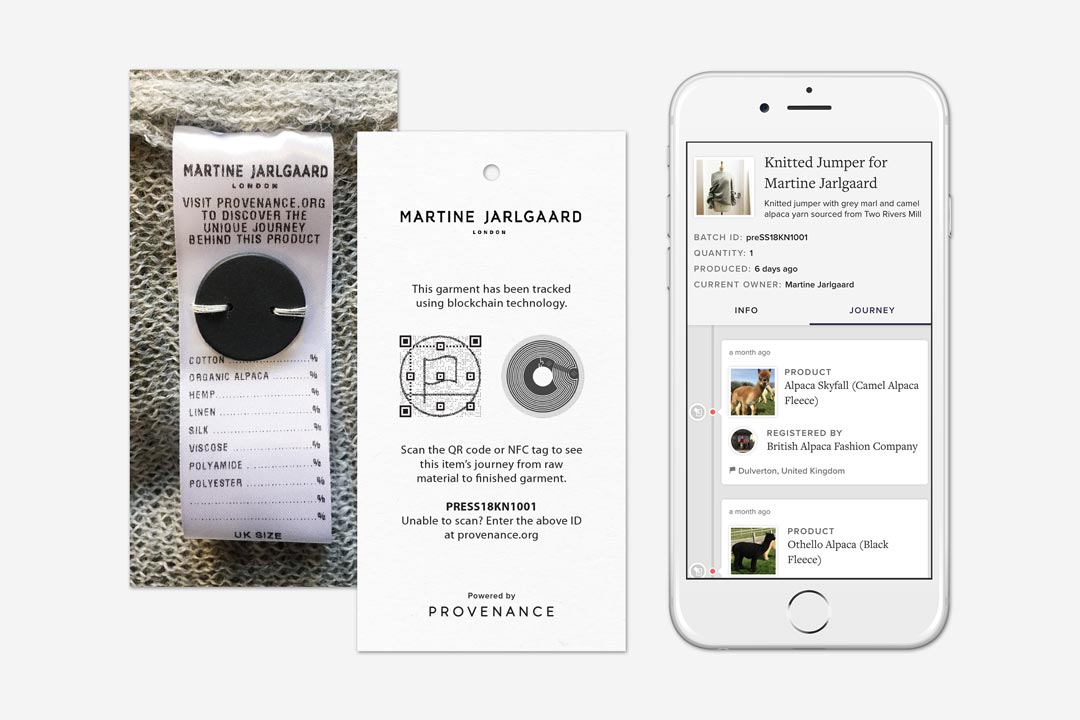 Lukso
Based in Germany, CEO Marjorie Hernandez, architect and brand expert joined with Fabian Vogelsteller, famous Ethereum developer to create an open blockchain network for the fashion and lifestyle sector called 'Lukso'. Not unlike Provenance, the technology can be used to verify supply chains but there are other use cases including tracing rentals on sites like Rent the Runway or guaranteeing the authenticity of a pair of limited edition sneakers on a resale marketplace such as Grailed.
Unlike other companies that are developing their own separate blockchains, Lukso is an open platform. This allows brands and retailers to use Lukso to build applications, creating a common standard between projects. Theoretically, the larger the network, the greater the trust. Seeing as interoperability is one of the key challenges to blockchain usage – it looks like this approach could be a viable strategy for wider adoption.
Arianee
Launched in 2017, French startup Arianee is another blockchain player that has developed its own open protocol. When it comes to its positioning, it looks like Arianee is firmly chasing the premium and luxury market. On the advisory board, there are executives from the leading luxury conglomerates – LVMH, Kering and Richemont. Their mission? Guaranteeing the link between the owner (original or otherwise), the brand and the good. Considering that the global trade of counterfeit goods is worth half a trillion dollars a year, there is a clear need to address this issue from a trademark and societal perspective.
What's the future of blockchain in the fashion and luxury industry?
Less than a week ago, it was revealed that the LVMH group is launching a blockchain to guarantee the authenticity of their goods. The project, known as AURA, is slated to go live in May or June with two brands: Louis Vuitton and Christian Dior Parfums. The initial phase will involve providing authenticity of the production process from the raw materials to the point of sale and beyond. At a later stage, the group will explore the technology for the purposes of intellectual property protection and customer relationship management.
With many blockchain companies jumping to address the fashion and luxury sector, it's going to be interesting to see what and when the tipping point will be. It's clear that for any blockchain to succeed, there will need to be a consortia of brands within the industry who are willing and open to collaborating together. Luckily for LVMH, the French group boasts over 60 brands within their portfolio. Their foray into blockchain may signal that the tipping point has finally arrived – at least for the luxury industry.
---
Are transparency and authenticity issues that you are facing as a brand or retailer? Find out more about our consultancy services here.