MILAN, Italy – After four months of renovations, Zara's Milan flagship store at Corso Vittorio Emanuele has reopened to great fanfare. First established in 2002, the flagship is located in a cultural gem that housed the Cinema Astra movie theatre from 1941 until 1999. Led by the architectural firm Elsa Urquoijo, the store's redesign pays homage to the original building while blending design and technology in its retail fit out.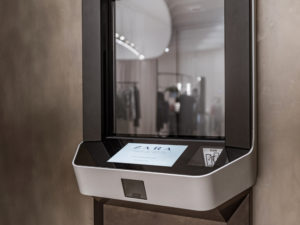 Zara's click-and-collect strategy
Continuing their partnership with robotics click-and-collect company Cleveron, Zara installed their parcel terminals allowing shoppers to pick up their online purchases in-store in a matter of seconds. So what's the process? When a Zara customer places an order online they receive a unique order PIN and a QR code. As soon as the order is ready for pick-up, the customer is notified. To collect their order, the customer heads to the dedicated click-and-collect area, where they enter their PIN or scan their QR code at the 'CleverFlex' terminal to receive their parcel.
The integration of robotic click-and-collect services to Zara's overall retail strategy is a clever move. According to The Wall Street Journal, almost a third of Zara's global e-commerce orders are picked up in-store. In fact, the growing preference for the service led to customers queuing up to pick up their order. 
The CleverFlex terminal was originally piloted in a Zara store in Coruña, Spain where the positive reaction from customers was immediate. Following the success of the pilot, Zara rolled out the solution to its London flagship in May 2018 and its Milan flagship in September 2018. 
Zara stores' ecological footprint
With over 7 400 stores worldwide, Zara's environmental impact is considerable. The technological revamp of the store is not only targeted at improving the omnichannel experience but also at reducing the energy consumption of each retail store. For example, the store's electricity and air-conditioning are controlled via a centralised digital platform. The platform optimises energy management and maintenance by automatically reducing energy demand. Currently, the Milan flagship records a 20 per cent savings in electricity and 40 per cent savings in water compared to traditional retailers.
"It is a unique store, as it presents an exceptional architectural design within a singular framework while incorporating the latest technology for both satisfying new customer shopping experiences as well as strengthening our firm commitment to the environment. It is undoubtedly a model for our characteristic online and in-store integration concept," announced Pablo Isla, company chairman and CEO of Inditex, at the reopening of the Milan flagship.
Inditex plans to make all Zara stores sustainable by 2020.