Haute couture designer Rahul Mishra is a man with a mission. To create a fashion house that can support as many Kaarigars, the petite mains of India, and their families as possible. He is doing this by creating magically elaborate embroidered designs that can speak to an international audience as much as those in his native India.

It's a commitment that was put to the test this season when India went into confinement because of COVID-19. But Mishra found a way to keep everyone on his staff, and not only that, he produced a couture collection that was a celebration of the natural world in all its glory. One that, while the world was sequestered inside, flourished. Blue skies, bird song, and butterflies all multiplied over the Spring months as Misha and his team designed his collection together, but from a distance. A sartorial feet that only brought the designer and his team closer. A family, if you will, that pulled together to create a collection of delicate, yet vibrate, grace.
Q: What is the inspiration behind this collection?

A: A significant part of our New Delhi team is Kaarigars (hand embroiderers and tailors), who, with the studio shut due to safety measures, were at the center of the storm. We are fortunate to have built a brand that stood by them in these troubled times and will continue to do so. But my conversations with the artisans, some of whom have been with us for over a decade now, was a strong reminder of why we are doing what we do.

Q: Why did you call it Butterfly People?

"Butterfly People" answers a simple, yet very pertinent question— "what is the relevance of couture in such times?" The last few months have been a time when the entire atelier struggled together— "together" being the more important word here. We ensured that every artisan is supported despite the countrywide official lockdown and an acute drop in sales. We were anxious, like the rest of the world, because everything seemed uncertain. But we were together— in spirit.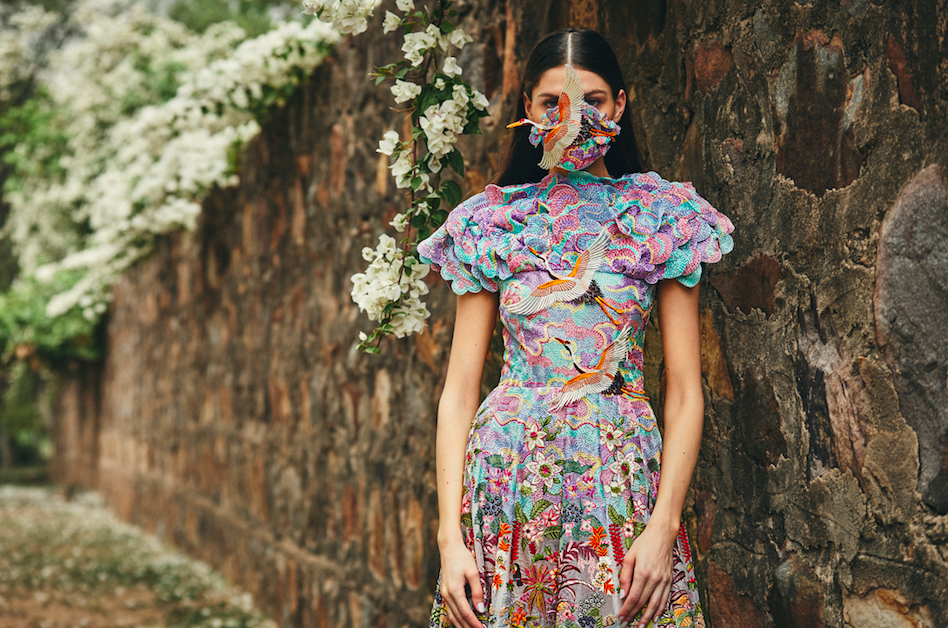 Q: Could you highlight some of your favorite looks?

A: "Butterfly People" is amongst the most intimate collections we've ever made. Each of the pieces has given us hope and positivity in the time of a pandemic and created employment for over 12 embroiderers (on an average) for their realization. It would be difficult and unfair to choose one.
Q: Who is the Rahul Mishra woman?

A: A Rahul Mishra woman comes with an intellectual and refreshing perspective towards life. She follows a coherent thought process and has an invincible mind. Independent, self-aware, responsible, and confident, she is grateful for what surrounds her and is sensitive towards people. While she's traditionally rooted, she embraces her individuality with pride and incredible ease. In the digital age of mobile phones and social media, she has a heart for nature and simple living. She's a doer, a multitasker, and a go-getter. Most of all, she is a combination of all the women who've ever worn us in the past, and those who will wear us in the future— each of them contribute to our idea of a Rahul Mishra Woman and thus, become it.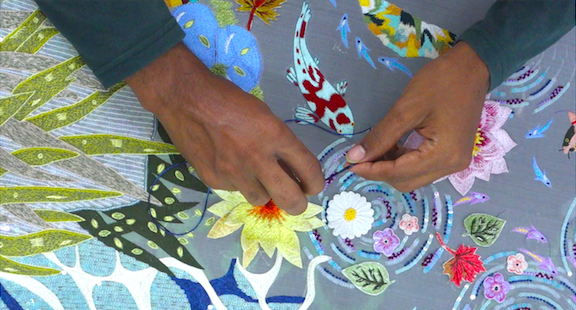 Q: Tell us a little about the craftsmanship that goes into each Rahul Mishra piece.

A: We understand that in the past few decades since industrialization, humans have been utilizing natural resources at a mechanized pace—a practice that isn't sustainable for the planet. Mass production of goods has been draining us out of the natural reserve that must've taken millions of years to build. Since we operate in fashion, our intention is to take clothing back to the human pace of production with the slowest of processes so as to slow down our consumption and add artisanal value to our clothes. We prioritize the use of hand-loom fabrics over power-loom, natural dyes over chemical dyes, and hand embroidery over digital printing so as to consume the same amount of resources as say, a fast-fashion garment but over an immensely large amount of time. This, in turn, allows us to create employment for hundreds of embroiderers, weavers, and craftsmen in the villages of India and give them a chance at a better life while sustaining their generations-old heritage.
On average, a dress would take about 1,500 hours to produce at our atelier and may employ about 12 embroiderers, several weavers, and other workers for its realization.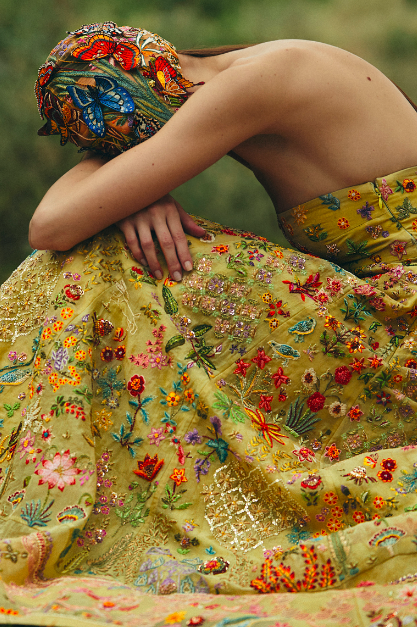 Q: In what ways is your brand sustainable?

A: Sustainability being a vast topic, may hold different meanings for different people. At Rahul Mishra, we believe that no resource or raw material is harmful to the planet if it's used within a limit. For instance, 'plastic' being used as a core material for a luxury jacket, only one copy of which is to be made, with an intention of remaining in someone's wardrobe for decades, would be far better than making thousands of disposable t-shirts out of organic cotton. What's harmful to the planet is this exploitation of any resource and the lack of value that a piece of clothing may hold.
We create fashion independent of trends and seasons, clothes that find the same relevance in someone's wardrobe even years after they were purchased. This slowness allows us to bring a spotlight on the diverse craft heritage of India and employ local craft communities that find themselves threatened by industrialization, mass production, and psychological impacts made by fast fashion across international markets. We also try to minimize our waste production by up-cycling scrap fabrics, extracting, and refurbishing older embroideries. In our slow processes, people, craft and culture find empowerment while it allows us to create a negative footprint on the planet.
We have had our clients come to us with a piece of clothing purchased years ago, for alteration just because they still connect with it, on a personal level and accounts of grandmothers narrating how her "granddaughter has been asking me to preserve her Rahul Mishra saree carefully, so she can wear it when she grows up". We understand that it would be a disservice to the idea of "sustainability" if we choose to define it a certain way, hence we choose to see it as an ongoing concept— there will always be a new area to consider as our intention remains constant. This makes us a sustainable brand.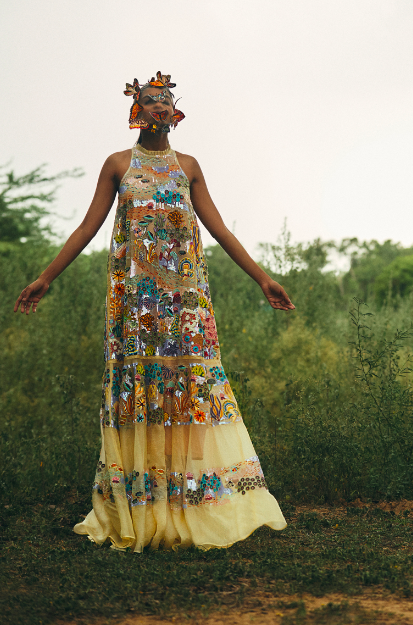 Q: You are a relative newcomer to the Haute Couture Week. Was it always a dream of yours to show couture in Paris and why?

A: It is any young designer's dream to represent themselves through the world's finest of fashion and so was mine. My brand was built upon the Gandhian philosophies of sustainability and slow fashion as my debut collection explored Indian handloom with a personal and modern approach. As I evolved and explored surface development, hand embroidery started to make more and more sense. We didn't realize when we began seeing our philosophies translating so fluently in couture and there has been no going back. While I didn't expect it to be so soon, I knew that haute couture is where I have to be. Being on this platform has allowed us to experience a new, elevated joy of dressmaking and become part of a special journey of converting threads and fabric into "fashion art".
Q: What new markets/regions are you looking to enter?

A: While we are already selling in several markets including, India, Europe, Middle East, America, and Japan, it is about penetration. While I feel that we still haven't "arrived" as such, in India, we might have so much to show the world. Through our work, we hope to touch more and more lives at both the front and back ends of the business and inspire people with our stories, craftsmanship, and beauty.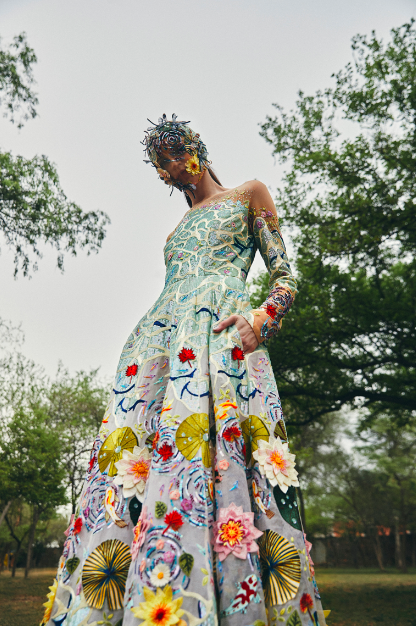 Q: While the magic of a couture show will never go away, it seems buyers will not be able to travel for a while yet. How do you think digital tools can facilitate during this time and into the future?

A: Earlier, I used to be a purist about this, I used to feel that the physical shows with their multi-sensory experience and immersive set-ups are the ideal way of presenting the collection. But I must say, it was a quite unique experience to showcase digitally. Almost, the same amount of work and stress went behind it, and well, there was a level of nervousness that came up, right before the live stream.
So to compare, I feel that only ten seconds of a garment fleeting past you at the catwalk can effectively be replaced with these multidimensional fashion films that can zoom-in to all the details the designer wants to showcase. The online showcases have allowed us to compensate for the backstage conversations with journalists and reimagine the way we tell our story. With these, everyone gets a front-row seat access to the collection—which may be desired or not. This kind of storytelling is effective and shall continue to be relevant even when the brands aren't dependent on it and the technical tools offer a replacement to the in-store experience as well, in a situation that's inaccessible. Considering that this medium isn't a complete replacement for physical shows, it will definitely open several doors and help many up-and-coming designers in building a communication model to facilitate effective interaction with their patrons.
Q: Where do you see your brand in 5 years from now? What new projects would you like to tackle?

A: We have several distinct projects in the pipeline, for our brand's next five years of journey. Overall, my intention is to create awareness and promote education around art, design, and culture of India and its rich heritage with relevance to modern times. We shall do this through our clothes and various other modes of communication and brand collaborations that we're looking forward to. After the recent launch of our e-commerce platform, I hope to diversify my vision further into accessories, jewelry, home and space design that represents functionality and visual stimulation at the same time. By the year 2022, we also hope to build a carbon-neutral atelier with its own energy renewal and rainwater harvesting systems.
However uncertain, the next five years look quite exciting to me from where I am right now.