As fashion slowly begins its return to normalcy, Copenhagen Fashion Week is introducing us to its new normal. And simultaneously possibly one of the most forward-thinking fashion weeks to date. With the growth of Scandinavian brands like Ganni, Cecilie Bahnsen, Saks Potts, as well as the burst of the "Scandanavian girl" on to the fashion scene, there is no doubt that Scandinavia has influence. That being said, will CPHFW's latest initiatives of sustainability and partial digitalization be able to change fashion week as we know it?

Back in May, CPHFW announced that the Spring/Summer 2021 Fashion Week would take place (August 9-12th) but in a new format from that which we have seen in the past. Using a mixture of both live and pre-recorded content, Scandinavia's biggest brands will now be shown across the world through its new digital platform in tandem with CPHFW's usual physical shows.

The digitalization of a fashion week is not something totally unheard of at this point. In fact, it has taken place throughout the pandemic – in London, Paris, and Milan – as a sartorial bandaid substitution. Replacing the traditional runway shows, which are no longer possible in the current COVID-19 climate.

However, this new initiative is not a COVID-19 driven tactic for CPHFW. They announced this new approach to their fashion week as part of their sustainability action plan back in January of this year. The idea behind a hybrid fashion week was to both maintain the integrity of fashion week and the opportunities it provides for brands to connect with buyers, while also making an effort to avoid some of the unnecessary air pollution from attendees' flights through digitally streaming shows internationally.

This was just one of the sustainability initiatives included in CPHFW's 2020-2023 action plan. They additionally set no less than 17 strict sustainability standards that their participating brands must adhere to by 2023. These include things like waste reduction through zero-waste set designs as well as sustainable manufacturing by incorporating a minimum of 50% organic and/or recycled materials in their designs.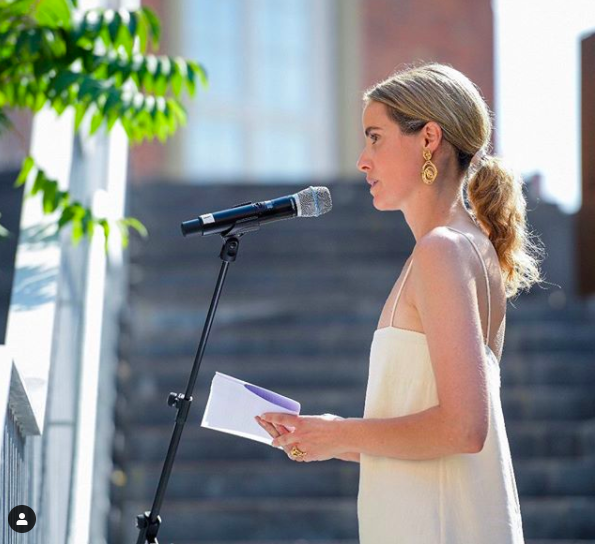 Copenhagen Fashion Week CEO Cecilie Thorsmark hopes that these sustainability standards will not strictly exist in Copenhagen, but will also set a precedent for other fashion weeks to follow suit. "I would like to underline that this is – obviously – not an action plan against the fashion industry but for the industry, as we are deeply convinced that initiatives like this are needed to future-proof brands," said Thorsmark in an interview with Forbes in the lead up to the fashion week. "So our intention with the 2023 Sustainability Requirements is not to make up new complex rules, but to support the brands in achieving a higher level of sustainability, since we believe that this will help them meet future demands of consumers, retailers, and the regulatory system," she added.

According to a report by the McKinsey Global Institute, consumers, driven by millennials and Gen Z are proactively looking for eco-friendly clothing. The report found that online searches for "sustainable fashion" tripled between 2016 and 2019. A key indicator that multi-brand retailers and department stores need to cater to this demographic, with its growing buying power, by focusing on brands that weave sustainability into the fabric of their business. This is why The Style Pulse has created its own sustainable criteria and categories on the platform. Instantly making it easier for our members to pinpoint the brands that are at the forefront of this movement.

As sustainability has now become a staple fashion buzzword, it is important that brands and retailers, as well as organizations including fashion weeks, begin to set stricter standards to ensure that this is not only a topic of conversation but an actionable part of every fashion business plan.